NYLET
90

Years. vintage yacht restoration service.

A summary of our restoration service, a service offered over several decades: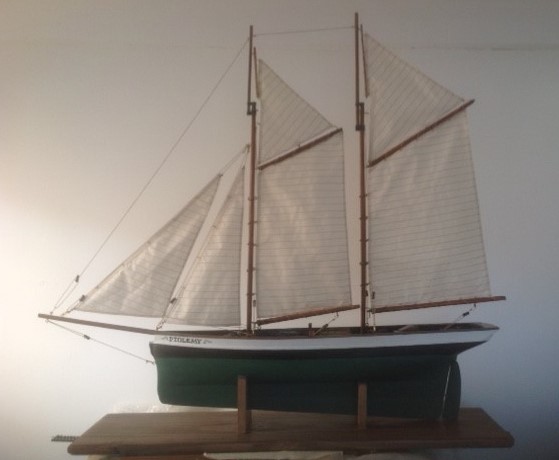 To a large extent it depends upon what you, the customer, desire to achieve, and also the general condition of the model.
The pictures on this page show some of the restoration work that can be carried out by colleagues. A neglected hull can be stripped down and repaired and repainted, original decks reinforced and relined where possible or necessary. Custom made brass fittings to match a boat's age or those remaining on it can be provided during a restoration. Fittings can also be nickel plated when necessary. To finish off, new spars and rigging can be set up along with replacement sails. Where ever possible original material is retained to keep the look and atmosphere of a boat. All work is carried out in agreement with the customer. A wide range of experience is available from work on simple pond yachts, through vintage class racing yachts to a POW bone model from the Napoleonic era (note i). In some cases, such as the Star yacht, see picture (blue & white hull) it was only necessary to sand down and repaint the hull and fin, everything else including the sails were in quite passable fettle and she thus retained a lot of originality. In the case of the other small yacht (painted green below the waterline) she was completely restored and with the customers own sails fitted. The large yacht "Albert" received new Nylet cotton sails and which dyed red replicating the original sails; see note below.
The model of a schooner, seen immediately above left, fully restored with new Nylet cotton sails fully seamed and sewn, was probably built in the 1920's. A sailing model 32 inches overall, she arrived in the workshop with a smashed lower bow from having been dropped, various spars missing and a century's worth of paint covering much of the hull detail.
Chris will be happy to discuss your particular requirements, a few pictures with dimensions/LOA (Imperial measurements please) emailed to us will help, and with an outline of the work you envisage. We will generally then be able to give an estimate for the work. Once we have sight of the model and are able to give it a thorough check over we can more readily pin down exactly what is involved. Chris' order book is usually pretty full so customers should be prepared to 'join the queue'.

Useful tips for the beginner thinking of starting a restoration project. The B9 "how to" illustrated colour booklet, written by Chris Hayward, on restoring older timber yachts, gaffers etc. Available in a pdf file as well as conventional paper, see 'booklets' (section A) in our price list.
Note i. See the article on the 'French Prisoner of War Ship Restored' in "Model Shipwright" no.137 March 2007.
Chris Hayward, who handles yacht restoration and refurbishment, is a colleague and friend whose work has been known to us for over 30 years. Chris was winner of the Howlett Trophy in 2010. Given by the Vintage Model Yacht Group, the trophy was in memory of Richard Howlett and created to inspire and promote the restoration of model yachts.
Click on "Info pages" to see photos of ALBERT being restored in our workshop.
We are sometimes asked if we can make up a 'kit' of parts (spars & fittings and sails) for a yacht which is with the customer. Unfortunately we are unable to make up parts for a yacht that is not in our workshop. However without sight of the model we can make cotton sails (to customers paper patterns). Please see the cotton sailmaking page.

This is just one of some 35 pages on our website.
NYLET ~ Fine products ~ Finely finished handmade sails ~Quality First ~ 90 years.
J.Parsons & Son ~ F.Parsons ~ Nylet. 1834-2021 ~ 5 generations ~ 188 years of manufacturing.
Silk Mercers, established in High Holborn, London 1772 ~ 250 years of working with fine cloths ~ 8 generations.
1620. Clockmakers, Goldsmiths. 402 years of Artisans. 402 years of tradition.